Our Services
We specialise in the installation of suspended ceilings, dry lining, metal stud/frameless glass/aluminium partitions.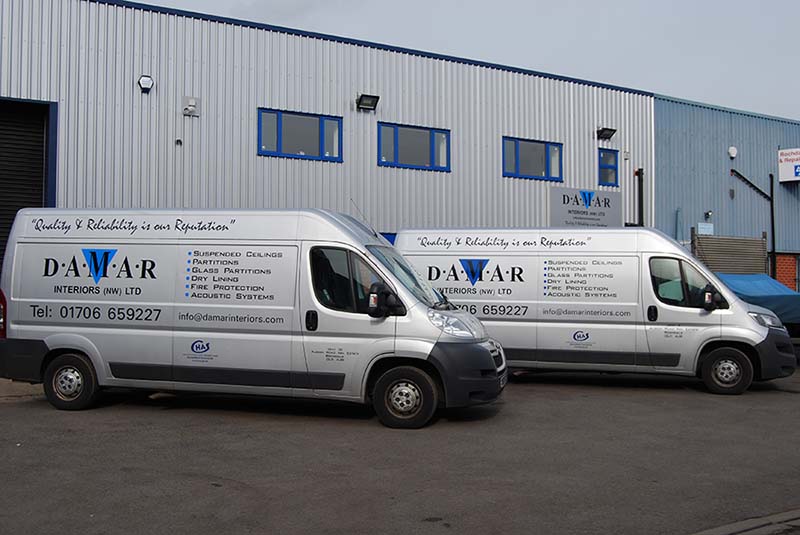 Suspended Ceilings
We specialise in all types of metal, mineral fibre and plasterboard suspended ceilings from all manufacturers such as Armstrong, Ecophon, OWA, Burgess, Rockfon, SAS and more.
Partitions
Our team is dedicated to making sure you have the right partition for the project whether it's for fire, sound or aesthetic purposes. Manufacturers include British Gypsum, Knauf, Tenon, Sektor, Komfort and SAS etc.
Fire Protection
Protection to steel beams, columns, suspended ceiling voids using a wide range of manufacturers like Rockwool, Firefly, British Gypsum, and Firetherm
Dry Lining
Drylining is a system that is used to cover existing walls such as brick, block, concrete walls or just to enhance the sound and insulation properties of the walls.
Glazed Partitions
Is a great way to maximise natural light and modernise your office space. These systems can either have aluminium or timber frames, frameless glass, single or double glazed with integral blinds for privacy.
Acoustic Systems
We use a variety of different system to enhance the sound qualities of any room. Systems include ceiling baffles and specialist wall lining panels from various manufacturers such as Soundsorba and Ecophon etc.
Get a Quote For Your Project

We have now handed over the project at Gatwick Gate and I wanted to thank everyone for their involvement in delivering a fantastic project.
I believe that it is one of the best projects we have delivered in years, not just the finished project but from start to finish. We applied all of the new processes & procedures and delivered on all our promises, the project was well planned, monitored & delivered and I am immensely proud of Orion and everyone involved.
We have raised the bar and shown what we can do when we all work together, we have a happy workforce, happy sub-contractors and extremely happy client who is already offering us more projects. We now know how to deliver successful, quality projects as a team and need to learn from this and apply this methodology and team work to every future project
We have set the new standards and it works so let's keep improving and never slip back into bad habits.
Thank you all so very much for your hard work and determination to deliver a great project. ROGER HUNTINGFORD